This listing has ended.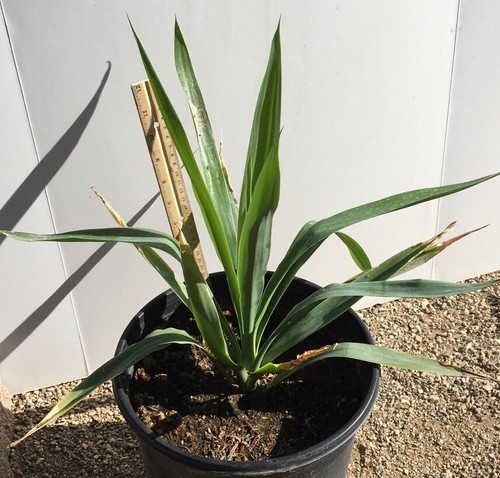 Similar items you may be interested in
Home & Garden > Yard, Garden & Outdoor Living > Plants, Seeds & Bulbs > Plants & Seedlings > Cacti & Succulents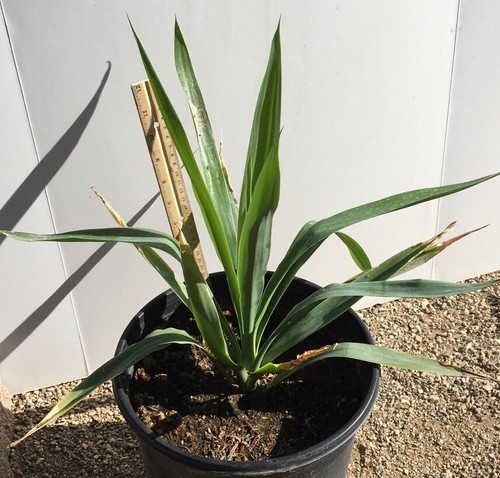 Similar items you may be interested in
Description
THIS AUCTION IS FOR (1) JOSHUA TREE. (YUCCA BREVIFOLIA) 3 GALLON.  17" TALL AND 15" DIAMETER.

HEALTHY  DESCRIPTION  TREE LIKE YUCCA GROWS 5-40ft TALL WITH A COLUMNAR, MULCH BRANCHED TRUNK FORMING A WEIRD AND PICTURESQUE OPEN CROWN.  HARDINESS ZONE 6a-8b.  NATIVE TO CALIFORNIA TO WESTERN US.

THIS PLANT IS GROWN OUTSIDE IN OUR STATE LICENSED AND CERTIFIED NURSERY IN IMPERIAL VALLEY, CALIFORNIA.

D1351.001.  CALIFORNIAS IMPERIAL VALLEY CLIMATE IS IDEAL FOR GROWING AND CULTIVATING BOTH SUCCULENTS AND CACTI YEAR ROUND.

OUR NURSERY PLANTS ARE IDEAL FOR EXTREME TEMPERATURES, MINIMAL RAINFALL AND ALKALINE SOIL.  THIS PLANT IS IDEAL FOR OUTSIDE XERISCAPING IN SOUTHERN CALIFORNIA, BAJA CALIFORNIA, SOUTHERN ARIZONA, PHOENIX, TUCSON LAS VEGAS NEVEDA, SOUTHERN NEW MEXICO, GULF TEXAS, GULF COAST, FLORIDA AND PERFECT FOR INSIDE HOUSE PLANTS IN OTHER CLIMATES ACROSS THE COUNTRY.  THESE PLANTS ARE GREAT FOR TURF GRASS REMOVAL AND LOCAL & STATE REBATE PROGRAMS.

UNPACKING INSTRUCTIONS WHEN PLANT IS SHIPPED ITS REMOVED FROM THE CONTAINER WITH ROOTS-DIRT WRAPPED IN A PLASTIC BAG.  YOUR PLANT IS CAREFULLY WRAPPED IN BUBBLE WRAP, THEN PUT INTO A NEW BOX PACKED WITH PACKING PEANUTS AND STYROFOAM CUPS.

THIS KEEPS THE PLANT SECURE FOR TRANSPORT.

YOUR BOX IS LABELED "LIVE PLANTS" AND "THIS SIDE UP".  WE SHIP YOUR PLANT WITHIN 24 HOURS VIA USPS PRIORITY MAIL.  PLANT MUST BE REPOTTED WITHIN 48 HOURS OF DELIVERY.  IMMEDIATELY LIGHTLY WATER YOUR PLANT UPON UNWRAPPING.  OUTSIDE PLANTS MAKE THE HOLE 3-4 TIMES THE SIZE OF THE ROOTBALL PLANTED IN WELL DRAINED SOIL.  INSIDE PLANTS REQUIRES A CONTAINER 2-3 TIMES THE SIZE OF THE ROOTBALL.  PLEASE USE EXTREME CAUTION WHEN UNPACKING.  THIS PLANT HAS SHARP SPINES OR NEEDLES.  HEAVY GLOVES AND LONG SLEEVES SHOULD BE WORN.

RETURN POLICY OUR COMMITMENT IS HEALTHY PLANTS FROM OUR LICENSED NURSERY WITH YOUR RESPONSIBILITY TO REPLANT AS SOON AS YOU ARE IN RECEIPT OF YOUR SHIPMENT.  IF THROUGH THE PROCESS YOUR PLANT IS DAMAGED, PLEASE RESPOND IN 24 HOURS INCLUDING PHOTOS AND DETAILED DESCRIPTION OF THE ISSUE.

WE ARE NOT RESPONSIBLE FOR ANY DELAYS IN .  WE DO NOT REFUND CHARGES.  THE NEGATIVE WE RECEIVED DOES NOT REFLECT OUR PLANT QUALITY OR CUSTOMERS SERVICE.