This listing has ended.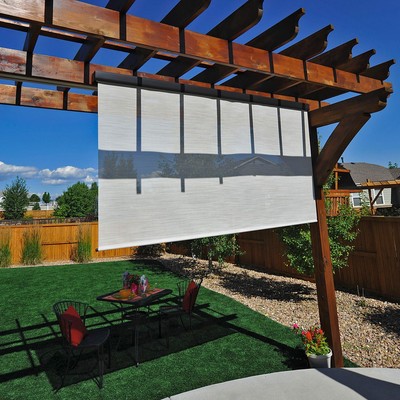 Similar items you may be interested in
Home & Garden > Window Treatments & Hardware > Blinds & Shades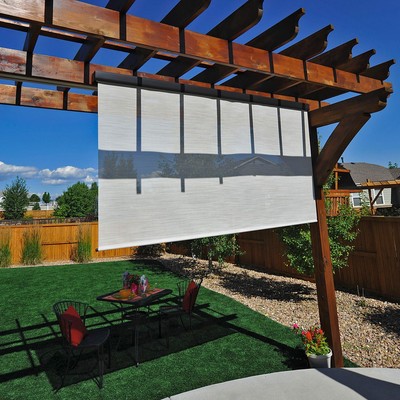 Similar items you may be interested in
Description
Crank Operated Solar Shade 6 x 8 Outdoor Sun Shade Blocks The Sun Quality Maui Product Description:Dramatically cools your home or patio while reducing your energy bill.

Cordless operation offers a safer option.

Size: 6 x 8If your home or patio heats up from the sun hitting it, then our shades are perfect for you.

This pole operated shade, provides a safer option for use around children and pets.Our shades block the sun before it heats up your window or patio.

This dramatically reduces heat and glare inside your patio area.

Keystone shades block up to 90% of UVA rays.Additionally, our shades block the sun, not your view, so you are able to enjoy the scenery.

These shades feature our "easy install system". All hardware that is needed to install the shade comes with the product.

Our Bungee tie down system allows the shade to flex during moderate wind conditions, so it won't hit your window or patio.

All shades have an 8' fabric drop.

Available fabric color includes Maui (72% UVA block) All valances are oil-rubbed bronze in color.

Details:72% UV blockShade comes fully assembled, just install the brackets using the installation template and click the shade into place.Our brackets allow for easy installation and removal for painting, cleaning, etc.Full 3-sided aluminum valance with metal end caps that fully encases and protects the shade.Variable point installation - brackets can be installed anywhere along the valanceBrackets are ready for ceiling or wall installationCrank ring is on the right side of the shade, but can be moved to the left side with easeComes with standard 4 ft. pole (different pole lengths are available)Shade comes in a 6 ft. valance widths.

The fabric is slightly less than the valance.

All shades have an 8 ft. fabric drop and come with a standard 4 ft. pole.Two Bungee tie down systems are included with the shade to allow the shade to flex during moderate wind conditionsFabric color is MauiAll valances are oil-rubbed bronzeGreenguard certified Approved by The Melanoma International FoundationWe are a large Distributor and have the majority of our items ship directly from our warehouses and manufactures.

We want you to be happy with your purchase.

We strive to give the best customer service possible.

Please contact us if you have any questions.

Once your item ships, the tracking number will be sent to you.Thank you for your business!