Home & Garden > Fresh Cut Flowers & Supplies > Other Fresh Cut Flowers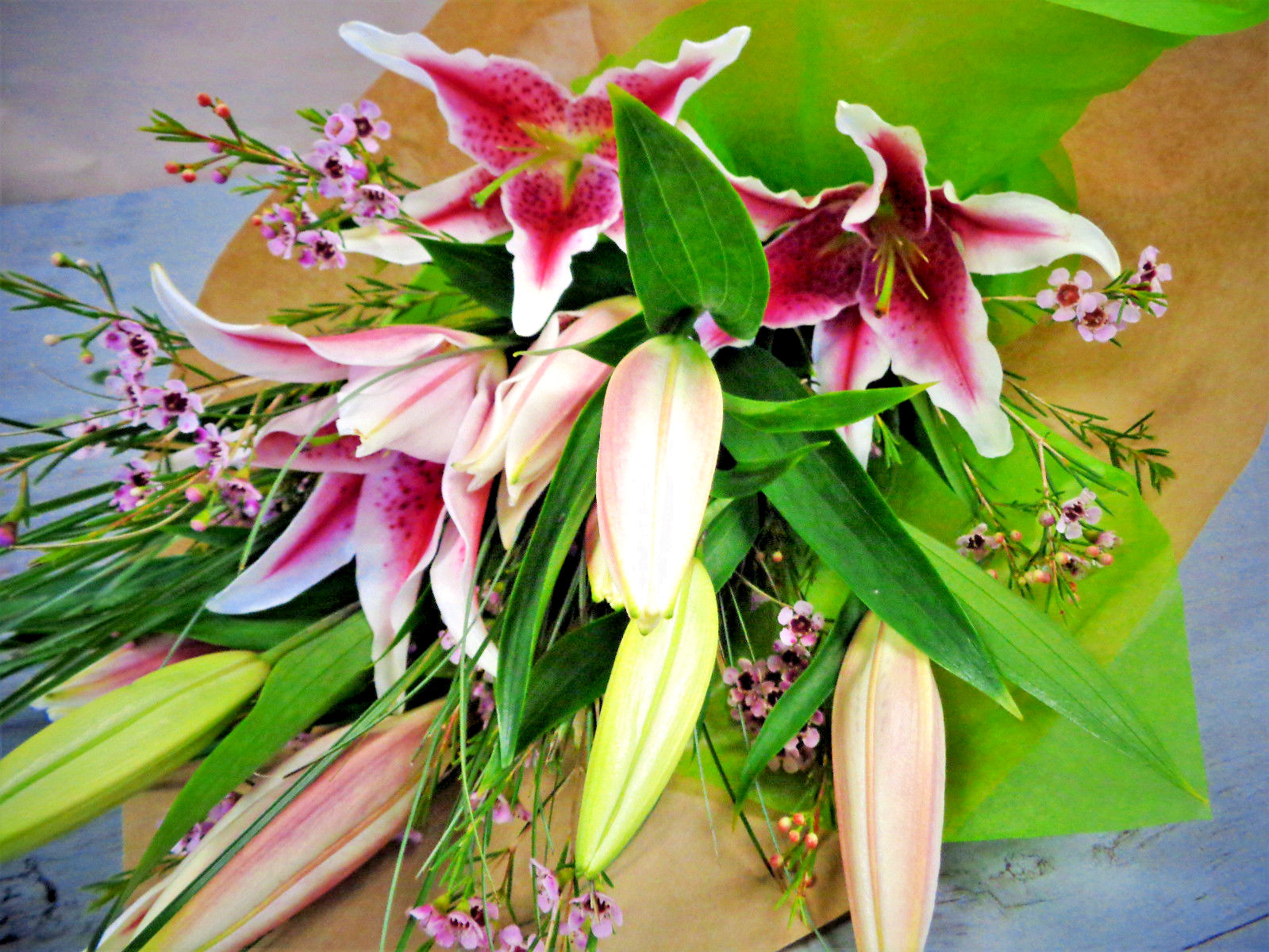 Time left:

19 days 10 hours
Item Number:

152550682542
(Last Updated: 5 Hours 7 Minutes ago)
Payments:
Credit Cards processed by PayPal
Shipping:
Free USPS Priority Mail
Location:
Dunlevy, Pennsylvania
Similar items you may be interested in
Description
Your Valentine will love these beautiful lilles this Valentines day! This large presentation bouquet of Star Gazer Lillies and greenery are wrapped in beautiful paper and tied with a lovely bow.

They are very easy to arrange in a vase as a wonderful Valentines day surprise.

Add on 6 additional Long Stemmed Red Roses to make your bouquet unique! Your fresh flowers are arranged by our designers and shipped the same day as they are packaged- Lillies have a vase life of approximately 10 days if properly cared for by our instructions below.

Your Bouquet will include:3 Stems of Semi Closed Pink and White Star Gazer Lillies10 Blades of Lilly Grass3 Stems Hypericum Berries or Wax Flower (shown with wax flower)Tissue Paper Wrap (color may vary)Enclosure Card ( "Happy Valentines Day" with holiday theme)Flower Food PacketRibbon Tie You can add these upgrades for an extra charge by selecting them from the drop down menu: 6 Long Stemmed Red Roses- for a fuller and custom bouquetBox of 12 Premium Chocolate TrufflesBox of 2 Premium Chocolate TrufflesBox of 5 Heart Shaped Chocolate TrufflesBath Bomb (assorted scent) 1.3 Ounce10" Teddy Bear with heart5" Teddy Bear with heart Fresh Flower Care: Upon arrival remove flowers from packaging.

Cut all stem at a 45 degree angle.

Remove packaging and place in cool water.

To prolong their life, keep water level covering stem ends, change water when it gets cloudy and re-cut 1/2 inch of stems every 3 days. (Free): IMPORTANT INFORMATION PLEASE READ!We only ship Priority Mail with a signature confirmation due to the perishable nature of our products.

Packages cannot be left outside in heat or cold which is why we insist someone is there to receive them.

If you miss your delivery, the post office will leave a card and your package will be available for pick up at your local post office.

The Package MUST be opened immediately and cared for properly upon arrival.

DAMAGE CLAIMS:Claim any damage immediately upon arrival.

We offer a 24 hour window from the time the package was delivered to make a claim, please be prepared to provide photos of the box, packaging and flowers.

BATH BOMB: If you choose to have a bath bomb included in your order, it will be a random scent and a random color.

It could be one of these scents: Eucalyptus, Apple Pie, Lavender, Beach, Lemon Lavender, Love Spell, Berries and Cream, Cinnamon, Peppermint or Cucumber Mint.

Please use caution if you have known allergies to any of these scents.

Please be aware that these scents where stored closely with each other and depending on your level of sensitivity could cause a reaction by cross contamination.

Ingredients: Baking Soda, Citric Acid, Corn Starch, Epsom Salt, Coconut Oil, Colorant, Essential Oil Chocolates: From the fine kitchens of Creek House Chocolates all of the boxed chocolates offer are: Non Gmo ChocolateFair Trade ChocolaterbST Free DairyNo Artificial Flavors or PreservativesAllergen Statement: May contain trace amounts of Peanuts, Tree Nuts, and Wheat.Ingredients:66% cacao organic bittersweet chocolate (organic: cacao beans, evaporated cane syrup, cocoa butter, soya lecithin), cream, butter (natural flavors), cream of tartar.

SHELF LIFE, STORAGE:Always keep chocolates away from strong odors and heatChocolate Truffles Shelf Life and Storage:65-68 degrees: 3 1/2 weeks 40-60 degrees: 4-5 weeksSolid chocolates Shelf Life and Storage: 4-5 months or longer if stored at 68 degrees, or lower.