Home & Garden > Major Appliances > Washers & Dryers > Parts & Accessories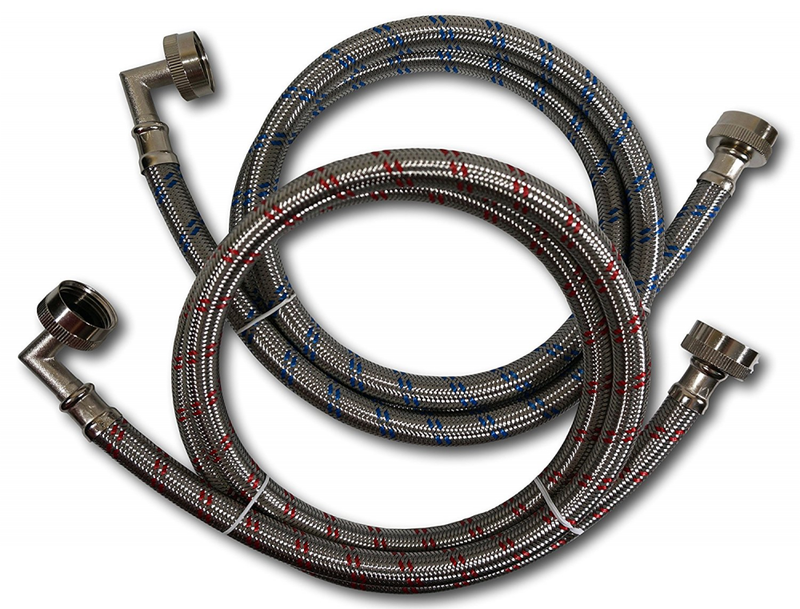 Similar items you may be interested in
Description
Premium Stainless Steel Washing Machine Hoses with 90 Degree Elbow, 5 Ft Burst Product Features 5 LONG, PAIR of Stainless Steel Washing Machine Hoses with 90 degree elbow.

Red colored for Hot Water and Blue colored for Cold Water FITS ALL WASHERS - Flexible Universal Washer Hose easily Connects to normal household Water Supply Lines in the Laundry room.

Perfect for Homeowner or Contractor Installation.

Elbow space saver design allows washer to be installed closer to wall.

BURST PROOF Washer Hose Design and 5 YEAR WARRANTY WIDE OPENING ALLOWS WASHERS TO FILL 50% FASTER than other leading brands on Amazon- Spend less time waiting for Laundry LEAD FREE AB 1953, Grade 304 Stainless Steel, PVC Core.

BRASS nuts, ferrules and nipples for superior Corrosion Resistance.

UPC Certified Product Description This premium set of Stainless Steel Washing Machine Hoses are designed to handle the stresses of the laundry room - extreme hot and cold temperatures, countless hours of use in cramped spaces and the agitation and friction from a running washing machine. 5 Feet of supply hose means you can move the washer around for retrieving lost clothes or normal maintenance - without having to disconnect the washing machine inlet hose every time.

You wont have to strain your self reaching into awkward positions to connect and disconnect a washer hose that is too short.

Pick up our Kelaro Brand washing machine connectors and compare them to any other off the shelf washer hoses.

You will feel the high quality materials and workmanship.

The weight alone shows these are heavy duty.

Dont risk inferior rubber or other low quality hoses leaking water and damaging your home and property.

Laundry Hose Technical Details: 2 Pack (1 Pair) of 5 foot Washer fill hoses with 90 degree elbow Red and Blue indicator stripes for proper connection to wall Certified AB 1953 LEAD FREE UPC/cUPC Certified Grade 304 Stainless Steel PVC Core 3/4-in FGH with 90 degree elbow x 3/4-in Female Garden Hose connections 60-in hose length Blue colored fill hose for cold water inlet Red colored supply hose for hot water 1,500 PSI burst strength Nickel plated BRASS nuts, ferrules and nipples Working temperature 15° F - 158° F Garden hose washers included and required for installation For residential use only 5 Year Warranty You may may also know this product as: washer hose, laundry hose, washer fill hose, washing machine fill hose, stainless steel hose, washing machine supply hose, stainless steel washer hose, Washing machine hookup, hose for washing machine stainless steel washing machine hoses, Washing machine connector, washing machine hose connector, washer hose hookup Shipping Policies Free 2-4 business day shipping with 1 business day processing eBays arrival estimate is based on average ship times & not a guarantee Please make sure you want the item, we are unable to support cancellations Buyer is responsible for address entered, we do not support address changes.

Buyer is responsible for all applicable local & state laws regarding purchase Return Policy Returns must be NEW & UNUSED condition with all parts & original packaging Please message us for the required RMA to return an item Return shipment for defective items is paid for by us! We do not stock parts.

All returns require returning the entire item Perishable items are guaranteed to be in date or full refund Customer Service Please allow us to resolve any issues before leaving feedback.

We will resolve any issue! Please allow up to 24 hours for a response!